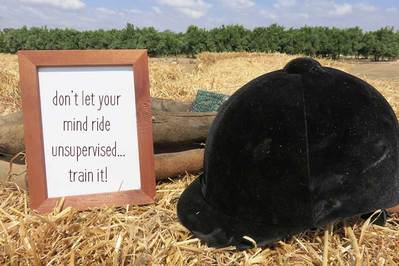 Small group sessions are:
Usually held locally (Calgary area)

Topics may be incorporated into a travel clinic

1.5 hours in length

Held at your stable

Very affordable, as little as $25.00 per rider!
FEATURED: SUMMER SERIES!
Show Ring Prep 101:
Learn how to get the most out of your performance! This session includes strategies to manage nerves, and how to develop a pre-ring routine. Call or email today to book your session.
Contact me to book your group session today!
---
---
Why consider a mini session?

A great introduction to mental training

Affordable!

Motivate your riders with new information

Combine with a social evening at your barn (potluck and learn). Two benefits in one!

Smarter riders=happier horses!

---

Session Topics:

Horseless training 101: Learn how visualization can improve your training and boost confidence

Mental Makeovers: Could your inner voice use some better direction? Learn how to manage your self-talk for better riding results

Focus Pocus: Strategies for managing and maintaining your focus

Show Prep 101: nerves getting the best of you? Don't have a pre ring routine you can rely on? Learn how to get the most from your performance and shine in the ring.

Freedom from Fear: Physical fear does not have to mean the end of your riding enjoyment. Learn strategies to take your ride back.
Design your own: Is there something in particular your riders are in need of you would like to see discussed? Just ask...