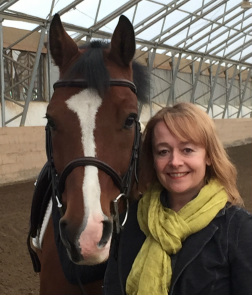 Welcome!
The soccer ball doesn't care if you're still thinking about work or school. A pair of skis is not impacted by your fear of speed. But a horse can and will respond to variations in your thoughts, feelings and tension levels. Your responsibility as the leader of this team is to know and manage yourself to make your relationship succeed.
Are you looking for an edge to achieve this challenge?
As a former competitive rider myself, I know the special mental skills required for horse sport. I love assisting riders in reaching their equestrian and life goals.
Bio:
April Clay is a Registered Psychologist with an independent practice located in Calgary, Alberta. You can visit her main site at
www.bodymindmotion.com
and the online course site at
www.outofyourmindcourses.com
April started out riding at age ten and was competing in the Open Jumper divisions by age sixteen. It was an early curiosity about the mental aspects of competition that enabled her to enjoy many successful years with her equestrian career. She recently returned to riding and as well enjoys many other sports.
Although she works with all kinds of athletes in her practice, April especially enjoys assisting equestrian athletes with their mental goals. Her approach has proven popular with various kinds of riders, from hunter/jumper to barrel racers, bareback riders and dressage. She offers both individual consultation and group services, and has been a featured speaker at such events as Equine Affaire, EqWest, and the Alberta Horse Owners and Breeders Conference. She is a qualified member of the Association for Applied Sport Psychology (AASP). April also works as a service provider for the
Canadian Sport Centre Calgary
.
April is a regular contributor to numerous publications both locally and abroad. Her articles on sport psychology for riders have appeared in Horses All, Canadian Horse Journal, The Corinthian Horse Sport, Horse Sport, Your Horse, Equus, Dressage Today, Performance Horse, Flying Changes, Horse News, New York Horse, The Eastern Equerry, and the Canadian Horse Journal.
---